NEW YORK TIMES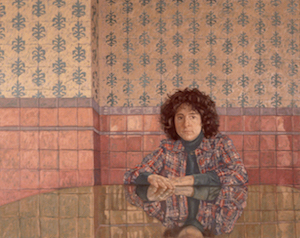 "Red/Green" oil on canvas, 48" x 60" 1979

THE NEW YORK TIMES

Art; A WOMAN'S WAY IN ART?
By Helen A. Harrison
March 28, 1982 OLD WESTBURY The struggle of women to establish the validity of art arising from what, in a less charitable era, would have been called their "condition" is now history, but the questions raised in that struggle continue to be debated. We must still ask, for example, whether there is a specifically feminine bias toward decoration, handicraft and pattern-making, and if the use of particular materials and subjects indicated that the artist is female rather than male.
"Home Work," an exhibition organized by the artist Harmony Hammond for the National Women's Hall of Fame in Seneca Fall, N.Y., and now on view at the Wallace Gallery of the State University College at Old Westbury, asserts that women's everyday experience can provide valid subject matter for so-called "high-art," and that homely themes exert a strong, animating influence on many women who are artists.
The show is admittedly narrow in its scope, featuring only works by artists who have received fellowships from the Creative Artists Public Service Program and included in its Visual Arts Referral Service. As Miss Hammond explains in her catalogue notes, she has chosen to focus on artists who deal directly with "a common denominator of shared experience as women in this society," while providing as much variety in style, materials and techniques as the available examples would allow.
Considering the individual works in relation to the broader issues mentioned above, one is bound to conclude that some of the connections are clear and instructive, while others seem at best tenuous. Some of the artists refer overtly, either by imagery or medium, to the shared experience of hearth and home. But some appear less preoccupied by what the curator would have us perceive as the affirmation of women's collective culture.
In the former category, Miriam Schapiro is among the most ardent proponents of the synthesis of formalist art concepts and feminist raw materials. "The Architectural Basis," her montage of lace handkerchiefs organized in a grid format, makes a statement that is a much political as artistic. While consciously evoking the handkerchief's sentimental overtones, she takes it out of its normal intimate and feminine context by incorporating it as a high-art motif, much as Picasso elevated a scrap of newspaper by making it part of a Cubist collage.

In Dee Shapiro's work, however, the relevance of her grid structures and seemingly decorative patterns is more difficult to relate to the show's aims. Although her "Paper Quilt," an arrangement of 72 color Xerox prints, has been given a suitably homey title, its complex formal variations are the product of mathematical calculation and the manipulation of modern duplicating technology. Her dense and richly textured painting "Red Right Return" is even less relevant to the theme, except insofar as its asserts On one level, Joyce Kozloff's ceramics are about reappraising the validity of decoration and craft, but on another, their derivation from Moorish and Islamic sources divorces them from modern American home life.
Even the use of traditionally feminine materials, fabric in particular, is not enough to make all the works fit comfortably into a domestic context. One would be hard pressed to think of a homely analogy for Paula Tavins's stained canvas pouches, or even the shredded cloth bag by Miss Hammond.
The shimmering sculptural boxes by Jane Kaufman may use beads and velvet, but these materials are unlikely to have been casually at hand in the sewing box. Her objects are a long way from the stitchery pictures using found objects that have always been regarded as women's busywork. To insist that their materials make them inherently domestic would be like asserting of wood.
The show seems constantly to be contradicting itself in this manner, forcing us to question each assumption by referring to the specific works chosen to illustrate its premises. The selection of still life's and interiors, like the fabric pieces, includes good examples of "what surrounds women in their daily lives," but also more traditional works that in another show would appear relatively neutral and free of specific feminist meaning.

Having seen hundreds, if not thousands, of paintings and drawings by men featuring kitchen tables laden with canned goods and chinaware carefully arranged on washstands, one has to conlude that the artistic examination of such subjects extends well beyond the boundaries of both domesticity and feminism.
Even the show's one portrait painter strikes an equivocal note. Despite the fact that Diane Marsh's two canvases show women seated in at most rhythms of color and composition, any inferences we might draw about the women's situation, both physical and psychological, in the home setting are subjugated, or would be if we were not led to believe that these works are supposed to represent a feminist viewpoint.
The precedent of Whistler's "Arrangement in Gray and Black No. 1" comes immediately to mind as an example of how an artist's formal experimentation with a common domestic tableau is consitently injected with estra-esthetic content by those determined to read it as "Mother" rather than art.
This is not to deny that the issues of subject and medium as determined by women's experience are important and should be explored. One feels rather that this show has not focused clearly enough on these issues.
By its very diversity, however, it does at least indicate that the range of creative expression among today's female artists has been extended to include themes and media that were previously ignored or undervalued. The fact that we have some difficulty in identifying their presumed "femininity" shows how far our own horizons have been broadened.
"Home Work" will be on view through April 8. The gallery is open Mondays, Tuesdays, Thursdays and Fridays from 1 to 5 P.M. and Saturdays from 11 A.M. to 5 P.M.