Diane Marsh Paintings:1986-2017 with essay by Diane Armitage, "Circle Maps and Triangulations: The Art of Diane Marsh" and Foreword by Lucy R. Lippard)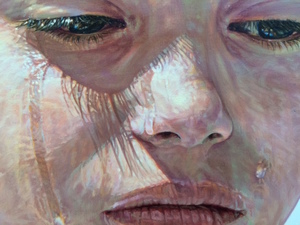 Detail of "Circle of Compassion" DETAIL 60" x 48" oil/wood 2017

Excerpt from foreword: Lucy R. Lippard

Diane Marsh's paintings, many of them self-portraits, convey a consistent and inconsolable anguish, as well as a parallel transformation. They are more than portraits. The emotional depth, or density, of her art is unfamiliar and disturbing. The viewer is almost an intruder, privileged and perhaps reluctant to share the pain. Yet despite the specificity of every subject, Marsh reaches for the portrayal of a broader humanity, psychological experiences that we can recognize and identify with. Although a muted sorrow continues to pervade the paintings to this day, hope hovers too.
The time taken for each meticulously realist work (Marsh completes only two or three paintings a year) is an integral element of the work, woven almost visibly into the content. Although landscape is always in the background it is rendered with such loving detail that it plays a significant role, another layer of portrait—portraits of a place, of New Mexico, of Abiquiu and Roswell, where vast and very different spaces literally offer new horizons, new possibilities. The notion of place as a spiritual antidote, nature as a sanctuary, is familiar in the ancient cultures of the southwest, in its art and its continuous allure for those of us from elsewhere. Sorrow is not denied, but acknowledged and transcended by earth, water, sky. In a sense Marsh's work is a plea for understanding, a personal and unifying need or desire that is offered to the viewer as a gift.