Art Now Gallery Guide Oct. 1994 Southwest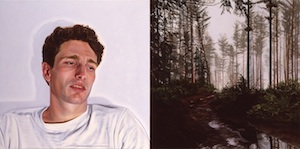 Diane Marsh "Do Not Go Gentle" oil on linen 36 x 72 inches


Art Now Gallery Guide October 1994 Southwest
Diane Marsh at Robischon Gallery
New Mexican artist Diane Marsh will exhibit large-scale oil paintings and drawings in her first solo show at Robischon Gallery, October 14-November 12, 1994. A reception for the artist will be held Friday, October 14 from 6-9.
Marsh's paintings are exquisitely painted portraits of humanity and solitary figures in spare, still environments. While highly realistic, they expand beyond conventional hyperrealism or portraiture. Rather, the figures are meant to carry the weight of her ideas, reflecting moments of intense introspection and an exploration into the mystery of the soul. Occasionally, the artist pairs the figure with a pristine landscape, drawing the connection that human-kind is inextricably and fundamentally bound to the natural world.

In her painting, "Prayer" a nearly twice life-size portrait of a woman, the figure is fixed in a deep stare, her hands clasped and eyes reddened in an emotional state. A pale pink atmospheric background contains dreamlike and spiritual images/symbols of a wolf, a rose, a cross and some text.

The artist's dramatic and sincere representation of psychological content is the framework for her intentions. Marsh compels the viewer to an emotional threshold, in pursuit of new spiritual territory and personal knowledge. In a culture that very often denies and neglects the tender side of the human experience, Marsh's vulnerable and yet powerful works become all the more courageous.

Robischon Gallery is located at 1740 Wazee Street, Denver, Colorado, 80202. Gallery hours are Tuesday-Friday, 10am to 6pm, Saturday, 11am to 5pm. For information call, (303)298-7788
---
The Naked Pray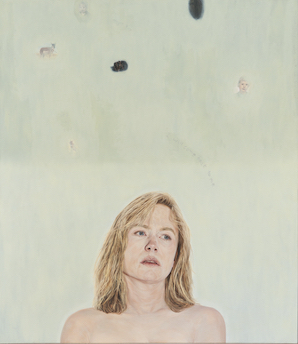 "Haunted Silence" oil on linen, 1993, 64" x 56"




THE NAKED PRAY
BY HART HILL
Westword
WEDNESDAY, OCTOBER 26, 1994


She stares out of the canvas at the viewer--at nothing. She seems frozen in a moment of deep anxiety, preoccupied with her thoughts. Who is she? In a sense, she is the artist, for this is an intensely realistic self-portrait. But at the same time, this woman and the other individuals depicted in the work of New Mexico artist Diane Marsh, now showing at the Robischon Gallery, are actors in a larger drama.
Marsh's harrowing paintings are far from the stiff, idealistic poses of conventional portraiture; these intimate pictures hum with a sense of story. Large, glowing canvases cradle the heads and shoulders of Marsh's models (usually the artist or her friends), a soap-opera-style composition that amplifies the dramatic, overlit atmosphere. The painstakingly rendered faces reveal the myriad shades of pink, white, blue and yellow that collectively make up human skin tone; Marsh's control is so precise that we can clearly read the subtle flush that indicates the approach of tears. Snatches of poetry and tiny archetypal images float above her subjects' heads like ghostly thought balloons.
These stark scenarios expose lonely people overpowered by life--rumpled, mourning, panicked. While Robert Longo threw tennis balls at his models to make them writhe and grimace for his "Men in the Cities" series, Marsh uses the quieter device of prayer to generate moments of anguish, which she then reproduces with microscopic fidelity. (Pencil studies of the paintings, spare concoctions nearly as magical as the final works, also are included in the exhibit.)
In the oil-on-linen painting "Prayer," Marsh manages to capture both physical and spiritual existence with extraordinary deftness. The model (Marsh herself) is posed with clasped hands against a heavenly pink "sky," eyebrows wrinkled in concentration, face transfixed with despair. Hidden in the luminous background are a rose, a cross, the scribbled words of a prayer. In "Deer Heaven," she augments an oil-on-linen self-portrait with a prairie landscape and a poem, each enclosed in a separate section of canvas. This juxtaposition offers tantalizing clues as to the thoughts of the distraught woman on the right: Is she worried about the dwindling deer herds? Does she, too, feel hunted, as the words of the poem suggest? The nakedly revealing surfaces of Marsh's paintings provoke more questions than answers; the urge to know their secrets is irresistible.
Equally mysterious but blissfully removed from human torment, Scott Greenig's compact, ornate paintings complement Marsh's confrontational style.
Diane Marsh, Scott Greenig and Linda Herritt, through November 12 at Robischon Gallery, 1740 Wazee Street, 298-7788.