Emotions on Canvas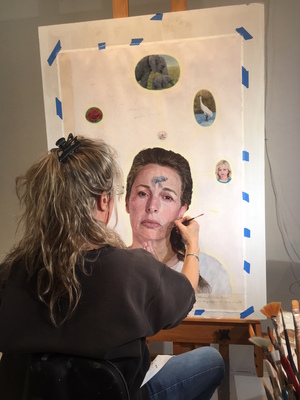 Back Cover Photo:

Diane Marsh Paintings:1986-2017 with essay by Diane Armitage, "Circle Maps and Triangulations: The Art of Diane Marsh" and Foreword by Lucy R. Lippard)



"Emotions on Canvas"
By Cristina Stock, Vision Editor
Roswell Daily Record, Visions magazine August 16, 2018

Those who were at the opening exhibit of Roswell Artist-in-Residence Diane Marsh in November 2002 at the Roswell Museum and Art Center, will no doubt remember the impact Marsh's work had to the onlooker. A tender yet brutal clarity of her portraits-many were self portraits- showed the human tragedy and emotions in all its forms.

Marsh stands out as an artist with her bigger than life realistic work that is often unsettling. Her catalogue/art book shows these and recent works, balancing between portraits, nature scenes of Southeast New Mexico and floating thoughts put to canvas, which surround its human center. Ahead of the art are forewords by Lucy R. Lippard and Diane Armitage who give the reader an insight into the body of work.

Marsh's art astounds and even in the smaller version of a catalogue, her paintings speak of silent anguish, serene prayers, regrets and love. It took talent and courage to create these painting and it takes courage to look at them-courage because it reflects the human experience and its psyche.

Marsh mastered a painting technique that is stunning with eyes of pain looking out and blood running in blue veins close under the skin like the emotions she captures. There is a strong contrast between the emotional luminescent human portraits and her accompanying landscapes-one of her favorites she said is of Bitterlakes National Wildlife Refuge. Just as realistic in its details, the landscapes calm and quiet the mind. This book is a perfect addition for collectors of art books and those who collect material about the artists of the RAiR program.

A look into Diane Marsh's career:

Born in Buffalo, New York, Marsh graduated from the Univesity of Buffalo during a period of dynamic expansion in media arts, film and photography. In 1979 Marsh received a grant form the Elizabeth Greenshields Foundation, moved to New York, and set up a studio in lower Manhattan. In 1980, The Roswell Residence Program invited her to spend a year in New Mexico, at the end of which she returned to New York. In 1984 New York gallery, Frumkin/Struve, added Marsh to their Chicago stable, which resulted in her works being exhibited alongside Phillip Pearlstein, Leon Golub, Joan Brown, Roy De Forest and Robert Arneson. She was awarded a National Endowment for the Arts grant in 1985.

She returned to New Mexico and lived in Santa Fe from 1988 to 1998. During her Santa Fe years, Marsh had solo exhibitions in Denver, Santa Fe and Los Angeles. Her paintings are in found in the Hess Collection in Napa, California, The Albuquerque Museum, the State Capitol Art Collection in Santa Fe, The New Mexico State University Gallery in Las Cruces and with the actors Amy Madigan and Ed Harris to name a few.

In 1998 Marsh moved with her family to Lincoln, Nebraska where she received a Nebraska State Arts Council Grant in 2001. In 2002 Marsh received her second grant through the RAiR Foundation and moved back to Roswell. In 2003 Marsh moved to Abiquiu, New Mexico, established a studio, and was awarded a John Anson Kittridge Foundation Grant. She had solo exhibitions at the Museum of Nebraska Art in 2005, and at the Addison Gallery in Santa Fe in 2006. The Sheldon Museum of Art in Lincoln, NE, the Museum of Fine Art in Santa Fe, the Museum of Nebraska Art in Kearney, NE and the Albrecht-Kemper Museum of Art in St. Joseph, Missouri, have all acquired Marsh's works for their permanent collection.

Returning to Roswell in 2007, Marsh enjoyed the task of repairing and preserving the RAiR Historic Studios, which found a new purpose as living and working homes and studios for artists. In 2017 she obtained recognition for the Historic Studios at Berrendo Road which are now listed on the State and National Register of Historic Places.