Museum of Nebraska Art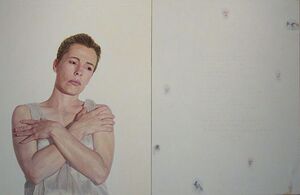 Diane Marsh's paintings present imagery of conflict, contemplation, and resolution through her depiction of life-size and larger-than-life figures juxtaposed with objects of nature or text. Although painted in a hyper-realist manner (artwork akin to high resolution photography) Marsh's work almost surpasses meticulous renderings by often painting her subject's skin as nearly translucent, revealing veins flowing with blood or red, almost raw skin surfaces. By doing such, the artist conveys vulnerability and emotion. Often in her work, Marsh includes words from world philosophers and in "The Ending of Sorrow", Marsh references the late writings of Jiddu Krishnamurti, an Indian philosopher and writer.
Museum Purchase made possible by Marilyn F. Belschner Arts Endowment Fund Museum of Nebraska Art Permanent Collection
---
Artists to showcase work at Jentel Presents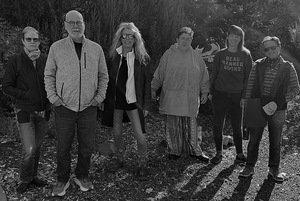 Left to Right: Stephanie Suter, Richard Hoffman, Diane Marsh, Ana Wieder-Blank, Alice Driver, Rachel Maxi

THE SHERIDAN PRESS OCTOBER 29. 2022

SHERIDAN — Visiting artists will showcase their work at Jentel Presents Nov. 1.
The community outreach program featuring the visual presentations and readings by the residents at the Jentel Artist Residency Program will take place live Nov. 1 from 5:30-7 p.m. at SAGE Community Arts.
An online Zoom link is also available for those unable to attend in person,
bit.ly/3EWw434
.
This month's presenters include:
• Stephanie Suter of Halifax, Nova Scotia, Canada: A painter, Suter has had places to rest her head but no home for some time, as the artist has been a wandering art-yogi in India, Nepal, Japan, Taiwan, Vermont and Nova Scotia.
• Richard Hoffman of Salem Massachusetts. On the most basic level, Hoffman is a keeper of notebooks. Years of them.
• Diane Marsh of Estancia, New Mexico. An oil painter, Marsh mines life experiences, searching for a universal truth that serves as a roadmap for her work
• Ana Wieder-Blank of New York, New York. Wieder-Blank is a queer, non-binary, Jewish multidisciplinary visual artist making work about queerness, disability, non-normative bodies, climate change and healing from trauma.
• Alice Driver of Little Rock, Arkansas. Driver is a writer from the Ozark Mountains. She is fluent in Spanish and splits her time between Arkansas and Mexico.
• Rachel Maxi of Seattle, Washington. A mixed media artist, Maxi is interested in experiencing environments. She has completed artist residencies in Morocco; Playa in Oregon, Joshua Tree, California; the Long Beach Peninsula; and Lopez Island, Washington.
The event is free and open to the public. SAGE is located at 21 W. Brundage St.
---
"Vision of a Spiritual Path" Albuquerque Journal May 7, 2022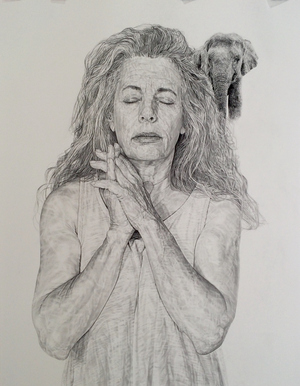 Diane Marsh "They Come in My Dreams" Pencil on paper, 55" x 43", 2020

Estancia artist awarded fellowship by Jentel Artist Residency Program

BY IVAN LEONARD / JOURNAL STAFF WRITER

PUBLISHED: SATURDAY, MAY 7TH, 2022 AT 3:02PM

It was an eventful day for Diane Marsh of Estancia as she was awarded a fellowship by the Jentel Artist Residency Program. Jentel Arts is situated n a rural setting on a working cattle ranch in Lower Piney Creek Valley, 20 miles southeast of Sheridan, Wyoming. While Wyoming is a far cry from New Mexico, they both have beautiful sties to offer. "I am going to enjoy experiencing the cities of Buffalo and Sheridan, Wyoming as they are both very historic western cities, so that will be nice," Marsh said. "Then just being in a quiet place with a couple of other artists and getting some work done will be a nice change of pace." Sheridan and Buffalo are 47 miles apart and straddle the Bighorn National Forest. Marsh is among the award recipients focusing on their own creative projects at this working retreat for artists and writers. A panel of arts and literary professionals review samples of artwork and manuscripts before making final recommendations for the residency awards.
---
"Death is a Hard Teacher: Diane Marsh" New York, March 13, 2022 - April 17, 2022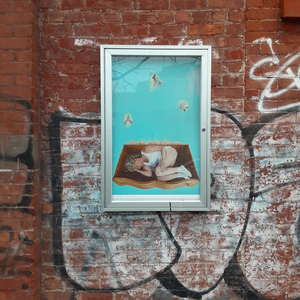 "DEATH IS A HARD TEACHER: DIANE MARSH" 2022, oil on wood, exhibited at CLEA RSKY Projects Inc.
925 BERGEN ST. BROOKLYN, NY 11238 CLEA RSKY PROJECTS INC IS A 501(c)(3) PROJECT BASED ENTITY THAT SHOWCASES ARTISTIC EXPERIMENTATION AND IRREVERENT EXHIBITION FORMATS. CLEA RSKY WAS UNDERTAKEN IN THE HOPES OF FINDING NEW WAYS OF RELATING TO VISUAL AND PREFORMING ART OUTSIDE OF THE CONVENTIONS THAT HAVE HERETOFORE BEEN PRESENTED TO US.

---
SW Contemporary: Milner Women in the Arts Lecture & Exhibit Series: Diane Marsh October 14, 2021 @ 6:30 pm - 8:30 pm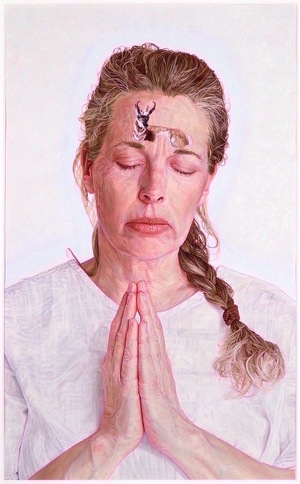 New Mexico based artist Diane Marsh will give a lecture on her experience as a woman in the arts, followed by an opening reception at the Frances McCray Gallery of Contemporary Art on the Western New Mexico University campus. The exhibit "Diane Marsh: A Merging of Worlds" runs through November 11, 2021.