Diane Marsh Paintings Exhibited at Roswell Museum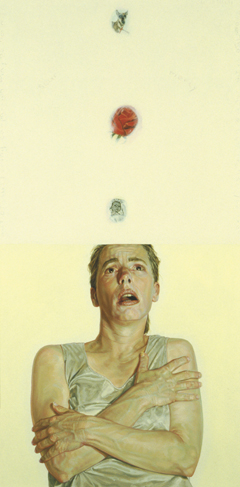 "The Awakening" oil on paper, 1996, 28" x 15"



"Diane Marsh Paintings Exhibited at Roswell Museum" by Blake Larson
Roswell Daily Record 2002


Roswell Artist-In-Residence Program artist Diane Marsh currently is exhibiting recent work at the Roswell Museum and Art Center. The electrifying seven piece exhibit can be seen in the Winston-Marshall Gallery now through Dec. 29.
Beyond her prodigious technical skills, Marsh's paintings deal most relevantly with larger human issues: personal growth, transcendence, and man kind's tenuous connections to nature, each other, and o one's self. The work is not about storytelling but about feeling, says Blake Larsen, preparator. "It is not about delineating the individual; its is about illuminating the human being. The work is not portraiture, whether the subject appears to be a personage, a landscape, or a flower. It is an offering of the artist's private and personal revelation of hope. It is about the journey of being alive."
For Larsen, Marsh's art is as complex and multi-directional as the "conceptual art" movement with which she shares her age. Her uses of visual realism are only an adjunct to her call for repentance, self-realization, and salvation.
Visitors to the museum may view Marsh's work 9 am to 5pm Mon. through Sunday.