The Symbiosis of the St. Francis Auditorium and Alcoves No. 1 at The New Mexico Museum of Art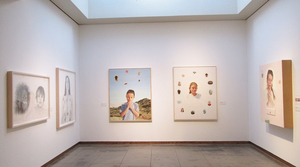 Diane Marsh "Alcoves 20/20" 2019 New Mexico Museum of Art



THE SYMBIOSIS OF THE ST. FRANCIS AUDITORIUM AND ALCOVES NO.1 AT THE NEW MEXICO MUSEUM OF ART written by: Sharon McCawley

The St. Francis Auditorium was never planned to be a place of traditional worship. It was planned to be the first public meeting place in Santa Fe in 1917 when the museum opened. Currently, it is the venue for the Santa Fe Chamber Music Festival, Governor's Award for Excellence in the Arts, art talks, movie screenings, weddings, and even yoga classes.

In a land of Indian and Hispano traditions, it was named after an Italian saint, St. Francis of Assisi. St. Francis is honored for preaching to birds and other animals, for attending to creatures in need, whether they were humans or creatures. His followers were mendicant friars who travelled with explorers and conquistadores to the lands of New Mexico, to the very site of Santa Fe.

The opening of the Auditorium coincided with the opening of the first Alcoves exhibit. The philosophy behind the exhibits was and is to provide access for non-judgmental and self- selected works of art by current New Mexican artists. This new Alcove exhibit relates intrinsically to the original purpose of the St. Francis. It is fitting that his original ethos of the physical and spiritual connection between human beings and the animals of land, sea, air are emphasized in the portraits of Diane Marsh which are currently on exhibit in Alcoves No. 1. Vignettes of land, people, and animals orbit in spheres around her primary subjects.

Diane Marsh, a resident of Roswell, is recognized for her detailed draftsmanship, her emotional contact between artist and viewer, and the iconography of her environmental and mythic images. She has stated that her works "include the importance of the awareness of our connection to the earth and my concerns for its future and for future generations….The paintings are populated by myself, family members, or friends, who are the actors portraying hope for an awakened humanity and the importance of healing the human soul through our connection to the land around us.". Her images are haunted with pain, enlightened with hope. Our shared sorrow is acknowledged and even transcended by her extraordinary technique and her moral vision
The land is inhabited by animals just as her paintings are inhabited by their images. The symbolism of animals has been applied to works of art for thousands of years: the dog for fidelity, the peacock for vanity, the lion for pride. Their inclusion in Ms. Marsh's works takes on an added urgency due to the growing vulnerability of species throughout the planet. By acknowledging the present condition of these animals, we are also acknowledging the purpose and attainment of her portraits.

MY SON/MY SON – This is a double portrait of Diane Marsh's son and an orangutan. The orangutan means "person of the forest "in Malay. The orangutan only lives on the islands of Borneo and Sumatra and is identified as critically endangered. The estimated population is between 50,000 to 65,000 with 2,000 to 3,000 dying each year due to deforestation and hunting. It has lost 80% of its habitat in the last 20 years and could become completely extinct within 50 years. The message is that our children today will be charged to be protectors of the future.

LIVING IN THEIR WOUNDS – This is a pencil drawing of the body of a woman illustrated with animals. Each animal is pierced by a bloody arrow. The illustrations literally touch her skin, relating to their common welfare. Their blood literally stains her. Here are some of the animals starting from the top right:
White Rhino – The Northern White Rhino is extinct in the wild and only three survive in a nature conservancy in Kenya. There are 20,000 Southern White Rhinos with 1300 dying each year due to habitat loss and poaching. It is hunted for its horn which is ground up and used as traditional medicine in Vietnam and China.
Mountain Gorilla – There are 1000 mountain gorillas living in Congo, Rwanda, and Uganda. They are victims of habitat loss, civil war, and poaching. They are also susceptible to human-borne diseases and even the common cold can prove fatal. Humans share 98% of their DNA with gorillas.
African Elephant - The elephant requires critical amounts of food, water, and space. Last century, three to five million elephants lived in Africa. Now the current population is estimated to be 400,000. They are endangered because of habitat loss due to logging and mining. Poaching for the tusks in the ivory trade is just as deadly. Just as people are left or right handed, the elephant is left or right tusked.
Pangolin – This insect eating mammal found in Africa and Asia is the most heavily trafficked wild animal in the world. Its body is covered with scales formed of keratin, the same material which forms human hair and nails. These scales are believed to possess curative powers and are marketed in China and Vietnam. It is completely defenseless and can only protect itself by rolling into a ball. Approximately 100,000 are poached annually which has a tremendous effect on human environment, since one pangolin can consume 70,000,000 insects per year.
Giraffe- The giraffe is critically endangered even though it lives in 15 African countries. The current population estimate is just under 100,000. The population has dropped by 40% in the last 30 years. It is disappearing due to climate change resulting in the loss of acacia trees, its main source of food, loss of habitat, and hunting for its meat and hide. The human and the giraffe have the same number of neck bones – seven.

CHILD'S PRAYER – A child, the protector of the future is shown praying for the welfare of his fellow companions. Perhaps, the most readily identifiable is the Monarch Butterfly, the "King of the Butterflies." Since 1990, approximately one billion monarchs have disappeared due to climate change and the use of herbicides. Specifically, the milkweed plant, which is their only source of food and location for egg laying, has been destroyed to make land available for the cultivation of soy beans and corn.

CIRCLE OF COMPASSION – This is a portrait of the artist's niece who is surrounded by adults with eyes closed to the crisis surrounding them and the entire world. They are truly not awake to the dangers of destruction and extinction. The girl is mourning for the loss of vulnerable animals who are just as essential to her as her human relatives as well as praying for the salvation of the future.
The Polar Bear is threatened by global warming resulting in the loss of sea ice, its habitat and source of food. The Arctic zone is warming twice as fast as the global average and the ice loss has been measured at 40% since 1980.There are now 20-30,000 square miles of ice and predictions are for less than 10,000 by 2050. The ice is receding farther into the ocean where there is less food, specifically seals, forcing the polar bear to forage on land for garbage.
The Chimpanzee like the gorilla shares 98% of its DNA with human beings. There are about 170,000 – 300,000 chimpanzees, but they are endangered due to deforestation, hunting, and exposure to human-borne disease such as Ebola. Chimpanzees are so intelligent that they have been taught to understand and use English by using symbolic tokens in various sizes and colors.

THE WEEPING DRAWER – The final painting is a self-portrait of the artist. The drawer is actually a repository of the earth containing paintings of the land, animals, and human inhabitants. The sense of empathy for others is overwhelming. The viewer mourns with the artist, reminiscent of Pandora's Box- even when all the troubles and woes escape, hope still remains.

Diane Marsh uses her artistic talent as a resource to try to save the world. Her particular message is that we all have talents which are powerful. Her message is expressed in color, light, and line. We can appreciate her message visually and morally. She helps us to remember the message of St. Francis.

"EVEN IF YOU SEE THE DAY OF JUDGEMENT COMING, PLANT A SEED
The Koran




---
Find Your Niche: Alcoves 20/20 Stuart Arends, Mokha Laget, Diane Marsh, Dan Namingha, Emi Ozawa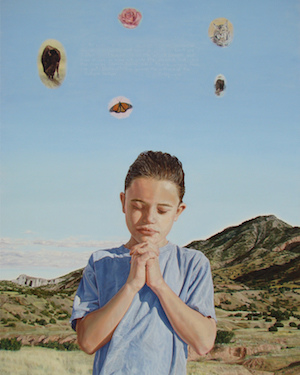 "Child's Prayer" oil on wood, 60" x 48" 2006


ART
"Find Your Niche: Alcoves 20/20" by Michael Abatemarco
Pasatiempo: The New Mexican Weekly Magazine of Arts,
August 9, 2019
When the New Mexico Museum of Art opened to the public as the Art Gallery of the Museum of New Mexico on Nov. 24, 1917, its mission was to provide the contemporary artists of the day with a venue for showing their work. Regional artists could put their names on a list and their work would be exhibited in one of several ground-floor niche galleries, or alcoves. The open-door policy persisted for decades until curated shows took over completely in the 1950s. Alcoves 20/20, which opens on Friday, Aug. 9, pays homage to the museum's original vision by showcasing the work of 30 New Mexico-based artists. (The artists' work appears in six rotations featuring five artists at a time, spanning a year in total.)
"I really think that this continues the museum's engagement with living artists," said Merry Scully, the museum's head of curatorial affairs and curator of contemporary art. "People forget that we were founded as a contemporary museum."

Alcoves 20/20 isn't the first time the museum has revived its alcove shows. They were mounted sporadically in the decades following the 1950s. But a revival in 2012 was the first in 20 years. The idea was brought back again in 2016 as a lead-up to the museum's 2017 centennial. In its 21st-century revivals, the museum has showcased the work of 80 regional artists. "For each of the artists, it's a small one-person show that's part of a group show, that's part of a really long group show," Scully said.

The first rotation of Alcoves 20/20, which runs through Oct. 13, includes work by sculptor Stuart Arends, painters Mokha Laget and Diane Marsh, sculptor/painter Dan Namingha, and mixed media artist Emi Ozawa.

Scully's purview is broad. There is no set theme for the exhibition, but there are correspondences between the work of all five artists this year in their use of a strong, graphic sense of color and the Minimalist quality to their work. Throughout the rotations, Scully includes new and recent work by artists at various stages in their careers. Approximately five works by each artist are included.

"It needs to be good work, not just the kind of work I'm partial to," she said. "I want to make sure that there's a variety of media, and I like to be able to show artists who aren't just from the immediate vicinity. Because of the rapid turnaround, a lot of times I look for artists that have a body of work in progress or already done. We can consider some of them emerging, but they still have to have a substantial body of work and a serious practice."

DIANE MARSH
Rendered with almost hyper real detail, the figurative paitings of artist Diane Marsh, 65, are dreamlike works that have a narrative qulality. But they are narratives in which only the rudiments, or the outlines of stories are revealed. The paintings here, such as "Circle of Compassion" (2017) and "Child's Prayer" (2006), invite the viewere to fill in the blanks. In "Circle of Compassion," the tear-streamed face of a young girl against a plain background, eyes downcast, is encircled by a series of ovals, each one containing a different object, person, or animal: a rose, a butterfly, a crane, several small portraits of people with their eyes closed. Are these figures within her circle of experience that she's come to love and care about? Or are they representative of a heart that embraces the circle of all life? Something about the painting-the girl's tears, the closed eyes in the tiny portrits of people, the fact that some of the animals are endangered or threatened with extinction-gives it an overall tone of melancholy. Marsh, who lives in southeastern New Mexico, paints with a sense of reverence as well as concern for life. Allusions to chilhood and familial relationships abound. Marsh's work is accessible becaue in part, it captures moments of tender introspection and life experiences to which everyone can relate.